Fountainside Art Gallery
Is Permanently Closed
This website is one of 2 that have been restored and preserved under a grant from the Web Archive Project, having been identified as historically significant by a number of sponsors representing the art departments of leading universities incorporating this content in courses and/or lectures. The other is killerjoethemovie.com. For both of these projects, TNG/Earthling's Bob Sakayama provided pro bono technical assistance and ongoing hosting support. Rev Sale contributed development and enlisted New York attorney Benjamin Pred to provide aesthetic and philosophic guidance. Naomi Watts handled historic research and archiving responsibilities.
---
This was the official website for the Fountainside Art Gallery. YELPERS have reported that the Fountainside Art Gallery located in Wilmington North Carolina has been permanently closed for several years.
Content is from the site's archived pages providing a glimpse of some of the artists the gallery used to represent, as well as from other outside sources.
Fountainside Art Gallery located near Wrightsville Beach in historic Wilmington North Carolina brings the finest in local, regional and national art to the Southeast. The light filled interior of the gallery's 3200 square feet showcases original oil paintings, water colors, acrylics, pastel on paper and bronze sculptures. Elegant, yet comfortable, the gallery welcomes visitors to spend an hour or afternoon surrounded by some of the very best art available on the Southeast coast.
Fountainside Gallery
1900 Eastwood Road, Suite 106
Wilmington, NC 28403
910-256-9956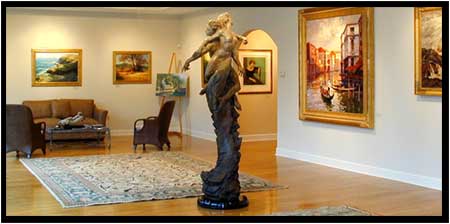 SCULPTORS
Paige Bradley

Paige Bradley has been inspired to sculpt the human figure in bronze since childhood. Born in Carmel, California the artist found much inspiration in her own physical strength and the surrounding beauty of the Monterey Peninsula. Immersed in nature and art, Bradley's fascination with the human figure began early. Art classes were as important to Bradley as was her basic schooling.
Educated at Peperdine University, Bradley spent a year in Florence, Italy. .
During her travels in Europe, the Great Masters offered inspiration, but Michelangelo consumed her. Bradley drew from nearly all his sculptures, studied his drawings and reflected his own passions for the human form.
Returning to the U.S., Bradley began a five-year apprenticeship with world famous sculptor, Richard MacDonald, which included working side by side with MacDonald on such projects as the grand monument for the 1996 Summer Olympic Games and the monument commemorating the 100th US Open at Pebble Beach.
Bradley went on to continue her education at the prestigious Pennsylvania Academy of Fine Arts; alma matar to Mary Cassatt, Thomas Eakins and Robert Henri. Within the first year, Bradley won the oldest and most important sculpture award in the school's history and was invited to be one in eighteen participants in the National Sculpture 'Society's "Young Sculptors Competition". Her work is permanently housed in the American Museum in Philadelphia. In 1998, Bradley started her own sculpture studio in her hometown of Carmel, exhibiting her sculptures in several galleries around the nation. In 2001, she was voted in to the National Sculpture Society as a Professional Sculptor Member. Bradley currently works in her studio in Monterey, CA, drawing and sculpting full-time with live models.
Even though the figures are sculpted in the classical tradition, Bradely is anything but classical. The artist, uniting psychology and spirituality in her sculpture, explores refreshingly modern realms for her artwork. An emerging talent, critics say Paige Bradley's work shows the spirit, the passion and the sensitivity, which are elements of true greatness.
Martin Eichinger
Martin Eichinger does not refer to himself as a figurative sculptor even though he clearly has a profound sense of of human anatomy. "I am a narrative artist. The language I use is form and anatomy, but what I try to sculpt is emotion and motion." His sculptures are evidence of a visionary who has something positive and eternal to say with his talent. The characters he creates are alive in the mind of Martin Eichinger and it shows in the sculptures that come from his hands. Each sculpture has a personality, a unique story to tell, a wink of humor, a hint of tragedy, or the artist's philosophy. Eichinger has placed many of his sculpture studies on the edge of possibility, without losing their sense of grace. In particular, his series of characters from an imaginary circus is magically balanced on this edge. Eichinger and his bronze circus were recently guests of Prince Rainier of Monaco at Festival International du Cirque. His most recent works are a group of sculptures titled "The Dream Series". Martin Eichinger (b.1949) studied design and anatomy at Ferris State University, did post graduate work in sculpture at Michigan State University, and pursued independant studies of classical sculpture in Europe. He has won numerous awards and competitions, including a Kellogg Internship and NEA grants. Eichinger opened his first studio in Lansing, Michigan in 1972. In 1985, he relocated to Portland, Oregon. Eichinger is known for several public monumental works. His most significant is a 16-foot cast bronze for Lansing, Michigan. Other recent and notable commissioned works include the Columbus Quincentennial high relief plaque for "Spain '92", a plaque and bust of Ronald Reagan, and a sculpture to commemorate the 50th anniversary of the Tenth Mountain Division of the United States Army.
Chris Hawthorne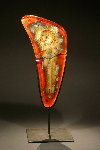 Chris Hawthorne creates massive, handblown glass vessels and sculptural pieces that convey the luminescent colors and shell-like forms of a mythical world. His original creations usually feature bold colors in a rainbow of hues, with intricate decorative elements cased in clear crystal. The result is a dramatic, multi-layered effect that is further enhanced by the enormous size Hawthorne is able to achieve in handblown glass. Although not intended to be functional, most of his works involve sculptural variation of vessel forms, usually distorrted for intense vissual interest from all angles of view. Chris designs each piece using a combination of transparent and opaque colors with clear crystal. Working with the molten glass on the end of a metal blowpipe, at temperatures in excess of 2300 degrees, Chris begins each pice as a bubble to which he adds complementary or contrasting colors of molten glass. By the time it is ready for application of the decorative elements, it may weigh 20 pounds or more. As he spins and blows the piece, he picks up bits and threads of colored glass onto the surface. These are melted flat by reheating the piece in the furnace. As a final step, he often applies thick ribbons of clear crystal to the surface for added optical interest. He spends a considerable time making all the individual small elements which eventually form the abstract paintings on the surface of the piece, These include multi colored strands and shards of glass, as well as murrini and latticinio pieces. When completed, each piece is signed and dated. His "other reality scenes" sparkle with iridescence and a sense of visual depth achieved through his complex layering process. His works are included in numerous pirvate and public collections and have been exhibited at major galleries and museums throughout the United States and Europe.
Gary Price
Sculpture is more than art: it is capturing events in life and then expressing those events through the mind and hands of the sculptor. Gary Price has a purpose when he creates a piece of sculpture and that is to lift up those that experience his art.
Gary feels most comfortable sculpting the human figure, having studied under Alvin Gittins while earning his B.F.A. degree from the University of Utah. For the past several years Gary has found joy in the "childhood days" of his five boys and has converted this joy into several pieces revolving around the fun and joy of youth. Gary, his wife Lanea, and their five sons live at the base of the Wasatch Mountains on 10 fun filled acres in Springville, Utah.
Gary believes in "always remaining a student" and finds travel and research an important part of his life. He has lived two years in Germany while serving a mission for his church. He has also spent six months in Isreal, one month touring the jungle ruins of Mexico and Guatamala, and in 1984 was in eleven different European countries for three months, including one month in Egypt. He muses, "We felt compelled to see some of the great masterpieces of the world and be inspired by them."
In 1991 Gary was elected a member of the National Sculpture Society.
His works are included in public and private collections through out the world including the L.D.S. Museum of Church History and Art, the Springville Museum of Art, the Salt Lake County permanent art collection, Culver Military Academy, Culver, Indiana, American Schools- Surry England, Westside Preparatory School, Chicago, Rich De Voss Women's and Children's Hospital, Grand Rapids, Michigan, Dallas Arboretum, Galleria Paseo Mall, Puerto Rico, Bluegrass Airport-Lexington, Kentucky, Michael Jackson, Entertainer, Neverlands Ranch, California, Nu-Skin International- Provo, Utah, Franklin Covey-Provo, Utah, several cities, libraries, and other public facilities and hundreds of others...
Gary has continued his art education by taking classes from Richard McDonald, Bruno Luccasi, Blair Buswell and many other fine artists. In August of 1999, August 2001, and February 2003, Gary taught five-day workshops for the Loveland Academy of Fine Art, Loveland, Colorado.
Ron Vavra
Ron Vavra is an award winning master wood turner who sculpts vessels and other forms with a lathe.Using wood from previously felled trees, the artist searches for rare wood that includes not only exciting grain patterns, but also scars, blemishes and signs of stress that, like people, create character and inner beauty. Then Vavra works the wood to create elegant, sensual pure forms that are a celebration of the glorious and troubled existence of each tree.
His works have been shown in numerous juried fine arts exhibitions and are in private collections throughout the United States. He was chosen as one of only five finalists in a world-wide design competition sponsored by the city of Annapolis, MD.
Vavra studied fine art at Brooklyn College before transferring to Rutgers University where he earned his degree. He later studied under internationally renowned woodturner, David Ellsworth.
Carol deB Whitaker
Whitaker seeks to capture the beauty and gentleness of the human spirit in each of her sculptures. She hopes to ease the observer into casual contemplation of the enduring and essential fundamental emotions in life. Upon retiring to her native Colorado in 1996 she began sculpting. With degrees from both Colorado College and the University of Chicago, awards include "Best of Show" at the ASLDin Denver as well as previous awards in painting. In July 2001, Southwest Art selected Whitaker as one of the up and coming sculptors to watch.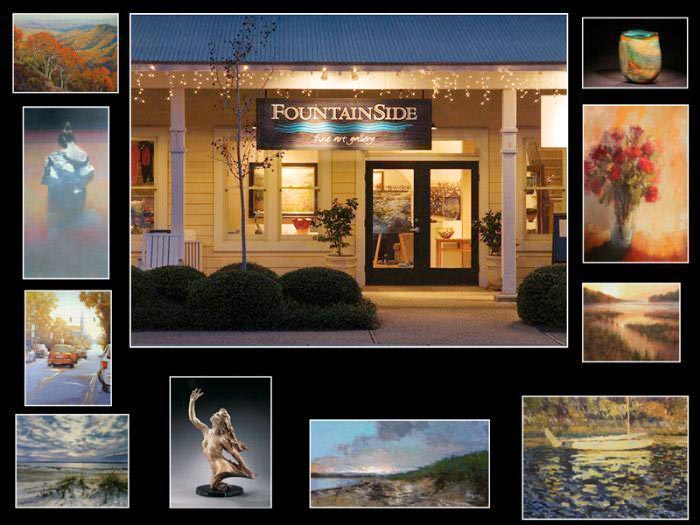 PAINTERS
Laurie Adams
As a mother of two, when her children were in school full time, Laurie Adams realized that "painting is what she needed to do for herself". So she started taking classes, finally ending up under the tutelage of renowned artists from the Denver Art Students League. After several years of painting passionately, Adams has accomplished a serene and sensitive look to her work. Her soft oil paintings often portray figures in a romantic light. However, an old man sitting in a hammock, while not thought of as romantic, can be viewed as quiet and sedate. There is a soft glow to her work as the lighting she uses is just as important as the subject itself.
Adams enjoys traveling with her family, often to Mexico where she also looks for subject matter with "character" for her paintings. Once back at the easel she paints these familiar people and scenes in a muted palette. The result is always lush and inviting. As an emerging artist new to the gallery scene, Adams work has already been well received by both collectors and gallery owners. Her work is represented in several galleries in her home state of Colorado as well as several galleries throughout the country. Her collectors find themselves starting with one piece and almost inevitably buying more of the captivating work. Laurie Adams is well on her way to establishing herself as a fine artist.
Margo Balcerek
" I have always been fascinated by landscape, gardens, plants, and flowers and I have never wanted to reproduce my subjects as I see them but rather as I feel them. Enjoying the journey from impressionism to pure abstraction, I treasure each and every point on the way. With color as my main object of interest, I explore, trying to pinpoint the mood, the essence, the soul of what I paint rather then how it looks, trying to save on canvas my own personal view of the world. I want my paintings to be bright and vividly colored objects upon which the eye can truly feast.
Jacob Cooley

Jacob Cooley was born in 1968. He received an MFA in painting from the University of North Carolina at Chapel Hill in 1993 and graduated in 1990 with a BFA from the University of Georgia, Athens. He studied at Antioch College in Yellow Springs, Ohio from 1986-1988. Cooley has received numerous awards and reviews of his work are included in major publications. His paintings are collected nationally by museums, corporations, and private collectors.
He says,"These new paintings are informed by harmonious, hallowed places,landscapes about contemplation and the spirit, but also about the transient, ephemeral characteristics of light and darkness, and ultimately of life. This work attempts to capture the instant when the orange of the sun is about to completely scatter into the diffused light of dusk or dawn, or the thunderclouds move to entirely obscure the horizon. Moments. I am reveling in what to me is basic, authentic, and profoundly essential to issues of my consciousness- the infalliable truths and deep-rooted perpetuity of landscape."
Jeff Cornell
In Jeff Cornell's own words,"The female form is of arresting beauty, there is no other thing I would care as much to portray through my work." Generally a single figure, his model, a friend or his wife, is revealed in an instance of time, captured forever with subtlety and sensuality. The artist quite clearly is a master of creating an intoxicating mood of peacefulness which is aided by the sheer simplicity of each composition, the result is tasteful and sophisticated.
Graphite studies generally precede the pastel works. The studies are of fine accuracy, highly observant with an enigmatic dash. Using pastel,"the purest method of painting", Cornell introduces refined color, often just traces, with his supreme touch.
During the past few years Jeff's exquisite works on paper have established him in high esteem among an ever growing company of collectors in the USA and UK.
Jeff Cornell
Christine Debrosky has the rare ability to capture the transient effects of natural light, transforming a seemingly mundane corner of our world to something extraordinary. Her contemporary realist paintings have been selected for, and honored with awards in numerous regional, national, and international exhibitions. A few are the Rocky Mountain National Watermedia, the American Women Artists National, Salon International, Pastels USA, and the Louisiana Watercolor International. Her work is in numerous private and corporate collections, and has been chosen for The Best of Pastel, and Landscape Inspirations, Quarry Books, Rockport Publishers. Listed in Who's Who in American Art, she holds signature membership in the Pastel Society of America, the North East Watercolor Society, and the Degas Pastel Society. Having lectured and demonstrated for many arts organizations and societies, Christine is on the faculty of the Woodstock School of Art.
Elena Madden
"Nearness to an ocean, a lake, or a river stimulates and inspires my soul. After years of reflection, I have established a unique and intimate relationship with my subject.
Preliminary studies and paintings are no longer created from life. Instead, a memory or vision is captured in my mind, to be interpreted later by emotion. This allows a freer expression of the image to be translated on canvas or panel.
Water changes constantly, based on the seasons, the time of day, and the weather patterns. I study this evolution in color and "light play". My resulting paintings come from these movements of reflection and the memories they stirred."
Elena Madden received her BFA from Savannah College of Art and Design in 1993. Madden has received numerous awards fro her work, and her paintings are collected nationally by corporations and private collectors.
Sandy Nelson
Sandy Nelson has been a professional artist for many years. She studied Fine Art and painting at the University of KY and the Scottsdale Art School. Her portraits and landscapes have been accepted to national juried competitions from Maine to California, many winning national awards. Her work is included in over 60 corporate and museum collections including those of Sam Walton, founder of Walmart and George Steinbrenner, owner of the NY Yankees. She was named one of the top 200 artists in 1993 by the Artists Magazine and has been profiled in "The Rotarian" an international publication.
She maintains her studio in Wilmington, NC but travels extensively to paint. She is a member of ASOPA, the New Mexico Pastel Society, Pastel Society of the Southwest, Midwest Pastel Society and Women Artists of the West.
Education: University of Kentucky, Majors in Fine Art and English Scottsdale Arts School, Scottsdale, AZ, workshops with Michael Lynch, Clyde Aspevig, Kevin McPherson, John Asaro, Ron Riddick, Ray Vinella 1987-1996 Jackson Hole Art Academy Workshops, 1993-1996, with Jim Wilcox and Harley Brown Pro-Art Workshops, Big Timber, MT with Jack Hines and Jessica Zemsky Huntington Museum of Art, study with Wolf Khan, American Art Academy, Chicago, IL, course with Ron Riddick
Honors & Awards (Not Inclusive) 1996 Oswald Creativity Foundation Award, *for graduating senior, Fine Arts Award in Painting, University of KY 1994 Ashland Oil, Inc. commission, official Ashland Stakes Print for Keeneland Race track 1992 Chosen as equine art instruction for the KY Horse Park 1993 Painting chosen for the Sam Walton Fine Arts Center, by S. Walton 1993 Associated Artists of Southport Award for Painting 1993 Connecticut Pastel Society of the West Coast, US Banking Award 1991, 1993 Southern Ohio Museum and Cultural Museum (5) Merit Awards 1988, 910, 93 96 97, 98, 99 2000, 2002, French Art Colony Juried Exhibition, Best of Show
Pavel Nikitchenko
Pavel Nikitchenko was born in Moscow, Russia in 1963. In 1983 he entered Moscow State Academy of Fine Art. From 1986-88 he participated in the work of the Moscow Experimental Studio of Painting and Graphic Art. In 1987-89 Pavel studied art at Professor Butoroff's private Art School in Moscow. In 1992 he served as an art director at the International Art Center in Moscow. In 1993 he founded the Independent Ivanov Art Agency in the framework of the International Association of Art Historians and spent two years organizing exhibitions of modern Russian Artists. During 1995 Pavel moved to Prague, Czech Republic, where he worked and lived enjoying the inspiration of that beautiful city, while also managing his own independent gallery. In the fall of 2000 Pavel began touring the Western Hemisphere and exhibiting his art for a new audience.
Selected Personal Exhibitions:
2002 -LMS Gallery, New Orleans, LA. USA -Bargeons Gallery, Hillsborough, NC. USA -Creative Resources Gallery, Wilmington, NC. USA -Methodist Home for Children, exhibit & charity auction, Wilmington, NC -NC Trial Lawyers Association, Raleigh, NC 2001 -International Fine Art Gallery, New Orleans, LA -Art Agency, IVANOV, Moscow, Russia -Creative Resource Gallery, Wilmington, NC -Visual Art Exchange, Raleigh, NC -Michalska Galerie, Prague, Czech Republic -Galerie, Armen, Prague, Czech Republic 2000-Gallery Prague, Yilska, Czech, Republic -International Fine Art Gallery, New Orleans, LA -Art Agency IVANOV, Moscow, Russia -Michalska Galerie, Prague, Czech Republic -Galerie, Armen, Prague, Czech Republic
Christine Debrosky
Christine Debrosky has the rare ability to capture the transient effects of natural light, transform...more
Cary Henrie
"I truly enjoy trying to create a new look in painting. I enjoyed living in New York and studying...more
Paula Holtzclaw
For Paula, a love of art has been lifelong, with her own talent emerging early in life. Childhood...more
Andre Kohn
Although born in Stalingrad in the heart of the former Soviet Union, Andre Kohn spent his first...more
Kevin LePrince
Kevin LePrince initially earned a degree in economics in 1992 and worked as a Vice President of Inve...more
M Kathryn Massey
M Kathryn Massey's specialty is classical still life paintings done in oils where she applies war...more
MT McClanahan
A native of Clinton, North Carolina, Marcus received his BFA from East Carolina University, (the ...more
Rick McClure
An award winning plein air painter from the Oklahoma City area, Rick McClure has been painting prof...more
Mary Rountree Moore
A native of North Carolina, Mary Rountree Moore grew up in Greensboro. ...more
Kathleen Newman
"Using oil or pastel, my paintings are both a representation of the outside world and a reflectio...more
Fernando Palma
Fernando Palma was born in the city of Lins, state of São Paulo, Brazil, in 1948. In 1969, he mov...more
Randy Pijoan
Randy Pijoan's work focuses towards the visual experience of modern man at the turn of the Twenti...more
Shaun Richards
Born in Brunswick, Georgia in 1977. His family relocated to Franklin, Virginia in 1978. After g...more
Don Sahli
Don Sahli is an American painter of Russian Impressionism. He was born in 1962 in Borger, Texas...more
Hilda Spain-Owen
Hilda Spain-Owen's art is primarily single-subject driven work, animal or human. It is about bol...more
Gail Taylor
Gail Taylor grew up in New England. Though not far from Boston, she lived outside the city in a...more
Barrie VanOsdell
Where light, atmosphere, and composition come together, there you will find landscape artist, Barrie...more
Tal Walton
Tal Walton's work evokes a sense of peacefulness and spirituality that reflects his love
---
---
SHOWS 2006


Merry Christmas and Happy New Year!
In the midst of all the holiday preparations and events, we wish to give you the opportunity to relax and feast your eyes on all the beautiful new artwork arriving at Fountainside Gallery.

Our December exhibit "Travels of an American Painter" features the oils of Don Sahli. Don is a plein-aire (outdoor painting) impressionist who studied with the great Russian painter Sergei Bongart. Bongart emigrated to the US where he influenced an entire generation of artists; many of his students are in prestigious galleries across the country. "Travels of an American Painter" includes the paintings inspired by Don's journey from Southport, NC to Washington DC as well as a few pieces from his western sojourns. The fabulous color and expressive brushwork make for an exciting group of images! Don and wife Cindy will be at the gallery FRIDAY, DEC. 8, 6-8 PM and again on SATURDAY, DEC. 9, 2-4 PM.....so plan an evening or afternoon to meet him and see this wonderful collection. If you can't attend, the entire set of works is on our website www.fountainsidegallery.com


Also in the gallery this month is a collection of small works by new artist Sandy Nelson which include small pieces perfect for gifting to that special person on your list. Subjects range from marsh landscapes to small children on our local beaches, all at great prices for originals! Sandy has just relocated to Wilmington from the Outer Banks and having a great time painting the area; she is also a professional portrait painter who is working on a new piece that will grace the cover of "Bench and Bar" magazine in the next few months.

North Carolina artist Shaun Richards is now represented by Fountainside Gallery; Shaun paints hauntingly beautiful figure pieces in a large format as well as landscapes. He has just been awarded an Artist in Residence Grant from the North Carolina Arts Council and we think he has a great future ahead of him!

MT McClanahan, an artist from Grimesland, NC, is now also in the Fountainside Gallery family. His large paintings of boats and beaches are beautifully painted in an impressionist style and a great accent for any decor. MT's works have been very popular with locals and visitors alike, so check them out on the website.

December specials are running throughout the month and include 10% off on artist designed jewelry and 15% off our group of gorgeous art glass pieces! Drop by and take a look at these incredible additions to your collection!

We are showcasing several new Martin Eichinger sculptures that have just arrived and are simply breathtaking. Martin is internationally known and collected; we think you will see why when you view his beautiful figures!

"Travels of an American Painter"

The Don Sahli show opens December 8, 6-8 pm. Don will also be at the gallery December 9 from 2-4 pm....see you there!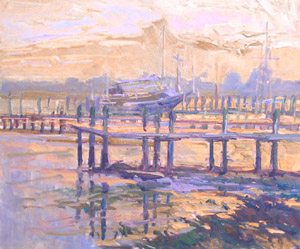 Dates & Times
12/8/2006 - 12/30/2006
Reception: 12/8/2006 6:00 - 8:00 p.m.
Location: Fountainside Fine Art Gallery, Wilmington, NC
This one man show featured a collection of plein air paintings created during a painting tour of the East Coast in April 2006. Sahli started in Southport and Wilmington, NC, and moved up the coast, capturing the beauty of the East Coast in springtime, in particular the majesty of its lighthouses and coastlines, ending his travels in Washington D.C. Sahli considers himself to be an American painter, and, as such, the exhibit included paintings from Sahli's other travels in 2006, from Colorado to New Mexico, California and Montana.
Fountainside Gallery in Wilmington, NC, Features Works by Don Sahl
December Issue 2006 | http://www.carolinaarts.com/
Fountainside Gallery in Wilmington, NC, will present the exhibit, Travels of an American Painter, featuring 17 paintings done on location during Don Sahli's painting tour, stretching from North Carolina to Washington, DC, all done plein aire. The exhibit opens on Dec. 8 and continues through Dec. 30, 2006.
For Colorado artist Don Sahli, interpreting the beauty of the east coast, the majesty of a lighthouse or the sun on the Lincoln Memorial using the Russian painting tradition is no conflict at all! In his latest exhibit of plein-air oils now showing at Fountainside Gallery, the influence of his mentor Sergei Bongart is readily apparent. The vigorous brushwork, strong color and dynamic design are reminiscent of work done by Russian Impressionists decades ago, but are also in many ways, contemporary. Bongart immigrated to Santa Monica, CA, in 1949 where he began his influential legacy as a teacher in his "old world" art school. When Sahli attended one of the Russian's workshops, he recognized the student's talent, saying "So - me thinks you may be pretty good painter - if you continue to study here at school" and so he did.
Sahli has earned his living as a professional artist all his adult life. He is prolific, producing studio pieces, including numerous public works and corporate commissions. He regularly lectures, demonstrates and teaches in galleries and other guest-artist venues. Sahli's work has won many awards and is represented by galleries in California, New Mexico, Idaho, Colorado, Texas and North Carolina. He founded his own school of art in 1995 where he teaches throughout the year.
Last April Sahli began his introspective sojourn up the east coast. Starting in Southport and Wilmington, NC, moving on to Cape Hatteras in NC's Outer Banks, then to Virginia, he fought the elements and loneliness, producing 2-3 paintings a day. "When I look at a painting," says Sahli, "I want it to bring me back to when I was on the scene - to convey the drama and emotion that first captured my attention - the soul of the place. This is the goal of my work - to go past the image to touch the viewer." The collection of works in the Fountainside Gallery exhibit prove the student is now the master.
Fountainside Gallery is also showing an exhibit of small oil paintings entitled, Summer Memories, by Sandy Nelson, on view through Dec. 7, 2006. The artwork was created over the summer as the artist visited area beaches, creek marshes and attractions such as Airlie Gardens and Orton Plantation. Nelson is especially known for her landscapes and paintings of children playing on the beach, as well as her commission portraiture.
Evgeny and Lydia Baranov Show
Friday, November 24, 2006
Many art forms can be collaborative, film production, musical performances, mainstream comics, animation and others can be the culmination the efforts of several artists working together in varying degrees.
Collaboration in painting is usually more one-sided, as in a master being aided by an assistant, a master touching up the work of a pupil or a figure painter employing a specialist to paint animals into a composition (as Rubens did); all are examples of one dominant painter and one helping. True collaborative painting, in which the same painting is worked on by two artists working in tandem with equal input, is rare.
Husband and wife Evgeny and Lydia Baranov, who are originally from Russia but now live in California, seem to have achieved a balance that allows them to do just that. They work side by side on the same canvas, which might be started by either, sharing the application of paint and the advancement of the composition in an interplay they liken to improvisational jazz.
They seem to work and think alike enough that the intention and execution of the paintings feels of a whole, like the work of a single artist. They apparently travel extensively and their work includes landscapes and cityscapes from Paris (image above), Russia, Venice and other parts of the world, in addition to their adopted home of California.
Their online galleries also include intimate interiors and still lifes, occasionally combined with exteriors in the same composition as in their "Moscow Windows" series. Their work also includes portraits and figures in the context of interiors or landscapes. Their approach is painterly, with broad strokes of intense color laid down directly, space and form defined with areas of color and little evidence of line.
I don't know if someone more familiar with their work than I could pick out the influences of one artist over the other. Their site sometimes arranges their work by date, and I see more variation in style over time than I do in a given year, indicating to me a pretty seamless synthesis of the vision of the two artists into a shared whole.
It's interesting to compare this approach to that of two other artists I have featured who are husband and wife, Neil and Karen Hollingsworth, who obviously share influences, but retain separate artistic points of view. I think it's rare enough to find couples who work in the same medium and general style; the Baraov's joined expression is very unusual.
Fountainside Gallery in Wilmington, NC, Features Works by Andre Kohn
April Issue 2006 http://www.carolinaartsunleashed.com/4
Andre Kohn, known for producing vibrant figurative paintings and deeply moving graphite drawings of Native Americans, will present a select collection of his most recent work at the Fountainside Gallery located in Lumina Station in Wilmington, NC. This show features work inspired by his recent sabbatical in France. The show will open Apr. 14 and continue through Apr. 30, 2006. Kohn's dramatic yet romantic style captures the poetry and mystery of the human figure and commands us all to pause a moment and appreciate the inherent beauty in those around us.
Kohn is frequently commissioned for both private and public works. His paintings can be found in private and corporate collections in Germany, Great Britain, France, Austria, Bulgaria, Russia, Korea, Canada, Australia, Japan and in more than 100 US collections, including the Autry Museum of Western Heritage in Los Angeles, California, and Indian Temple Mound Museum in Fort Walton Beach, FL.
Born in Stalingrad, Kohn moved to Moscow and attended the Moscow Pedagogical University, where he received immediate recognition for his talent. While there he was introduced to many well know Russian Artists, among them Antony Sofev, who exerted a profound influence on his style. In 1992, Kohn immigrated to the United States. Here he received his Bachelor of Fine Arts degree from Auburn University at Montgomery. Today he resides in Arizona.
His recent invitation to France was to study at the exclusive Studio Escalier under renowned artists: Tim Stolz, Michelle Tully and Ted Seth Jacobs. Kohn says of his experience in the workshop, " I was in love with and, a few weeks later addicted to, the search for the path of the human figure's lines and form. While studying fine art at Moscow University, where I was trained classically, the whole approach to drawing the human figure was introduced to me as a more strict and mathematical exercise. The philosophy of Tim Stotz's teaching on the human figure, however, has an enormous metaphorical and symbolic power with a deep poetic outline."
Kohn goes on to say, "Tim inspires his students to a quick realization that we are here to grow together and individually towards our most beloved passion - searching, interpreting, creating, and immortalizing the human figure. The terms of rhythm, line of gravity, contraposto, amplitude, radiance, axis, action, tilt, pitch, sequence of form, refraction, proximity, active vs. passive, positive shapes vs. negative, foreshortening and balance were stressed over and over again."
" The second term of the course was taught by Michelle Tully, adding her delicate approach to the topics of value, hue, and chroma. And if that wasn't enough ,Ted Seth Jacobs himself, the 'perpetrator' of it all with his 60 years of experience of art education, stepped in and gave students his ultimate wisdom and advice."
The body of work Kohn has produced since his return has received tremendous attention. Fountainside Gallery will be showcasing a select collection of these pieces.
Andre Kohn Show
The precise convergence of three dynamic forces-culture, environment and talent-combined to produce one of the most collected figurative painters on the American art scene today. Raised by an artistically gifted family near the Caspian Sea in southern Russia, Andre Kohn's childhood was marked by the natural splendor of mountains and sea, and by an unfettered access to all the creative arts.
His mother was a symphony violinist and his father a noted linguist, writer and sculptor. Both were educators trained in psychology who gave their only child unrestricted opportunity to explore the depths of art and his own obvious talent. Paintings, sculpture and books filled the family's tiny, one-bedroom home. It was a childhood without material possessions, but a childhood which taught him that the creative arts are the only true wealth. Kohn's parents also encouraged their son to draw on any surface-including the wallpaper in their home-which they simply re-papered when he grew old enough to favor sketchbooks. His memory of childhood is that "music and art were everywhere."
While always innovative in drawing and painting, Kohn's professional art education began at age 15 when he was chosen to apprentice in the studios of Moscow's most esteemed Impressionist and Social Realist artists. At that time, Impressionism in Russia was nearing the end of a harmonic and prolific century-a prodigious period in Russian art that literally changed the world. Kohn's childhood and art education corresponded with an eruption of cultural progress in all the arts, including ballet, literature, music and painting. He was principally influenced by such artists as He followed the apprenticeships with a classical art education at the University of Moscow where he studied with members of the last great generation of Russian Impressionists. With his talent already in evidence, he quickly earned an invitation from the Artist's Union of Bulgaria (Europe) to stage a prestigious one-man show in one of their country's major exhibition halls. Still in his first year of college, Kohn was the only student so honored for the year.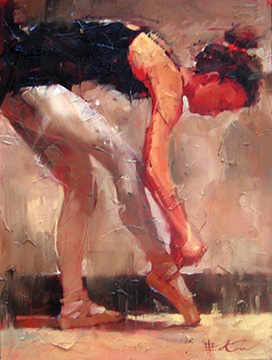 He fondly remembers the majesty of the University. "The experience was totally unique," he has said. "The atmosphere was one of huge columns, marble floors and masterworks on the walls. Legends of the Russian art world walked the halls and discussed your work. It was a privilege to be there, and it laid the foundation for my entire career."
However, fate soon dramatically redirected the young artist's life and art. His father, a colonel in the Russian Army, was the first candidate to participate in the post-Cold War officer exchange program at the U.S. Air War College in Montgomery, Alabama. In 1993, while Kohn was in America visiting his parents, his father announced his intention to defect to the United States. Suddenly, the young artist realized he would never again be permitted to return to his homeland.
It took little time for American art audiences and media to discover the mature, fresh figurative painting style of the young Russian. His first one-man show in America created instant interest in his work and helped introduce Kohn to audiences in his adopted country.
Kohn remains a preeminent leader of Figurative Impressionism which seeks to capture the complexity as well as the simplicity and directness of the human form. "I'm seeking my own unique, poetic interpretation of the moment," he says. "I'm striving to find the extraordinary in the ordinary."
Despite Kohn's unrepeatable pallet, personally developed style and unique interpretations of form, his education is enduring. From his home in Arizona, Kohn travels the world for inspiration, periodically returning to France to continue his formal, classical studies.
Kohn's work is represented by premier galleries in the United States and he is a regular contributor to invitational exhibitions. Kohn is a frequent subject of highly regarded art publications, and his unique ability to communicate the expressiveness of the human form has kept him a mainstay of private, corporate and permanent museum collections worldwide.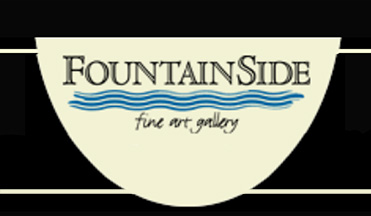 SHOWS 2007
September Dog Days At Fountainside
9/11/2007
col art for summer heat
8/8/2007
Eichinger SPECIAL OFFER!
12/15/2006
Sincerely,
Linda Penrose & Sandy McNeal
The Team at Fountainside Gallery
910-256-9956 open Mon-Saturday, 10-6 and Sundays 11-3
Announcing a pre-cast opportunity from Martin Eichinger Studio.
Eichinger Sculpture Studio is especially proud to introduce Martin's newest addition to his popular Duet Series.
"Bird in the Hand" features a graceful dancer held up by her humble partner; his firm grip on her thigh offers strong evidence of his commitment to her flight.
Every angle of this dynamic duo exhibits the depth and beauty of Martin's sculpting talent.
Below you will find a photograph featuring these views.
"Bird in the Hand"stands 44" h x 15"w and will be mounted on a round, black granite base measuring 16" x 2." The design of the patina will be similar to that of Rapture and On Wings of Hope,
with dark browns near the bottom that fade up to a light beige. The dancer's skirt may take on a light pink tone, such as Dancing with Crocodiles.
"Bird in the Hand" will be cast in bronze as a limited edition of 100 and will be introduced publicly in January at a price of $12,500.
We are pleased to offer Bird in the Hand at a special pre-cast price of $9,800. This pre-cast price is available through December 15th or for the first 15 sculptures sold, whichever comes first.
Five edition numbers have already been secured, so keep in mind only ten more are available at this pre-cast price.
To secure your order and edition number, a 50% deposit is required.
The remaining balance, plus packaging and shipping, will become due after the sculpture has been shipped and received with full satisfaction.
Each purchase will be assigned edition numbers in the order that deposits are received.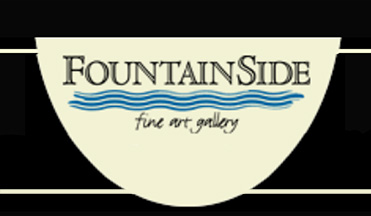 SHOWS 2011 - 2012
Artful Home issue 7
2/21/2012
Gearing up for Spring with art in your home!
New Paint and Clay
1/27/2012
New Artists in the Gallery! Gina Strumpf and Shayne Greco join the Fountainside Fine Art family.
Your Artful Home for the New Year
1/6/2012
Starting the new year with tips for adding art to your home.
Artful Home issue 5
11/16/2011
the Artful Home issue 5 with holiday art tips and new work in a variety of room settings.
Artful Home Issue 4
9/26/2011
Fourth issue of Your Artful Home. Working with Blues in your home.
Fall Newsletter
9/26/2011
It's finally fall and Andre Kohn's new work in the gallery.
Holiday Portraits
9/13/2011
Portraits by Fountainside Artists Sandy Nelson and Hilda Spain. Special pricing.
Artful Home, issue 2
7/1/2011
Bringing the Beach to your home with coastal art.
Your Artful Home
6/1/2011
First issue in a series of email newsletters to help you use fine art in your home.
New Year New Art
1/7/2011
New work from our favorite artists for the new year.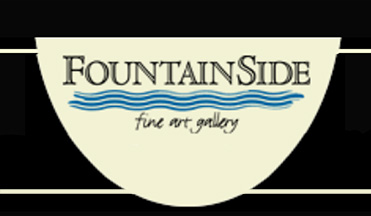 FountainsideGallery.com